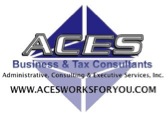 ACES, Inc. offers a variety of services to assist your business reach its peak potential. Businesses can take advantage of one service or many - we will tailor services to meet the specific needs of your business!
❖
CFO-2-GO
is an ACES exclusive. By providing small business with an opportunity to take advantage of executive level experience in areas of business management where they otherwise could not afford to, ACES services a growing need of business owners. Think the high cost of hiring a full-time Chief Financial Officer for your small business just isn't in the budget?
THINK AGAIN
! With our our al-a-carte style service, you can efficiently optimize specific areas of your business to achieve strategic results on your budget and schedule. Give us a call to talk more about what you may need to reach your goals.

Hiring ACES' qualified executives to meet this need on an as needed basis is the answer. We are not a leasing company and don't require hefty fees and buyouts to use our services as needed. We do not require lengthy contracts and you don't incur employment tax and benefits costs. Hire ACES
CFO-2-GO
for special projects such as Annual or Project Budgets, Inventory, Financial Statement & Audit Preparation, Tax Planning & Preparation and many others.
Save money, time and hassle by using us on your terms
!