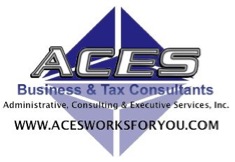 ACES
provides full-service tax preparation services for indiviuals, businesses, partnerships, and trusts. We offer very competitive pricing and usually meet or beat the competition in both price and quality of service! You can't beat the best!

In addition to standard return preparation, our experienced staff offers the following services:
✓
IRS Audit Support & Representation
✓ Amended Return Preparation
✓
Back Tax Return Preparation
✓ Tax Planning Stategies
✓
State Tax Returns
✓
Payroll Tax Return Preparation
✓ Sales & Use Tax Returns
✓ Installment Plan & Offer in Compromise Services


Bookkeeping Services for Tax Preparation
We will organize and compile your financial tax data from your personal and/or business records to assist you in meeting IRS guidelines for record-keeping and audit purposes.

Optional
First year tax clients receive the option to have our knowledgable staff review (at no charge) upto two years' prior returns to assure that all of the allowable credits and deductions were taken. Approximately 85% of the returns we review had "missing" credits or deductions...this means taxpayers OVER PAID their taxes! We will amend prior year's returns at our client's request at a discount from current year fees for new and existing customers.
Call now for 2012 Tax Planning & Setup
. December clients receive a DISCOUNT of $25.00 per return!!!